Behavioral Health Care Advisor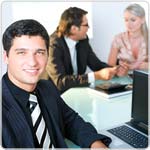 Frequently individuals who are diagnosed with a chronic medical condition experience some emotional health symptoms. For instance, the individual become depressed or anxious, or experience difficulty sleeping. These behavioral health issues can interfere with the individual's medical treatment and healing, which in turn increases medical claims.
Holman's Mind Your Health Solutions program integrates the identification and treatment of behavioral health issues with chronic disease management. By identifying individuals with chronic conditions who may have co-morbid behavioral health issues, such as depression, anxiety, sleep disturbances, or substance abuse, Holman's Health Advocates can work with that individual on creating a personal care plan to help them resolve their emotional difficulties and achieve better medical treatment compliance. Holman's Health Advocates also work closely with the treating physician, nurses, and case managers to ensure true integration of care leading to better treatment outcomes.
Holman's Mind Your Health Solutions program also provides pharmacy intervention services. Our pharmacy intervention program is focused on identifying individuals who are being prescribed psychotropic drugs by their primary care physicians, and conferring with their doctors to make sure the correct medications are being prescribed and that appropriate services are offered.
Following is a list of services included in Holman's Mind Your Health Solutions program:
Identification of individuals with chronic health conditions who also have co-morbid behavioral health disorders through an online Health Risk Assessment, other self-assessments, claims review, self-referral, and referral by doctors, nurses, care managers, and hospitals.
Identification of individual prescribed psychotropic medications through their primary care physicians or other non-psychiatric doctors by conducting on-going reviews of the group's pharmacy claims.
Holman Group Health Advocacy services include:

A thorough intake and bio-psycho-social screening
The creation of a personal care plan to resolve concurrent behavioral health issues
In and outbound telephone calls
Confidential email communication
Consultation with primary care physicians, nurse practitioners, care managers, and disease management staff, as needed

A fully interactive behavioral health disease management program which includes:

A self-scoring Health Risk Assessment
Self-assessment tests for depression and substance abuse
Self-scoring PHQ-9 Depression Assessment
Behavioral Health Library
Online and community resources
Monthly webinars on pertinent behavioral health topics
Health Improvement Programs, and
Online self-help videos on topics, such as Pre-Surgery Prep

Statistical reports on program utilization for HR.
Program communications materials, including secure monthly emails.
Participation incentive programs.
Holman's Mind Your Health Solutions program can be individualized to meet your client's specific needs and budget. To see how we can help your clients reduce medical claims through Mind Your Health Solutions, contact Holman Group Sales Executive to discuss the program components.