Behavioral Health Care Advisor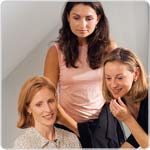 When an individual is diagnosed with a serious or chronic illness he or she is considerably more likely to suffer from mental health issues, as well. When receiving a diagnosis of a potentially life threatening disease; it can be a harrowing experience fraught with change the individual must assimilate. The person may be feeling ill, facing surgeries, chemotherapy, and medications. There may also be a need to adjust to lifestyle changes, significantly more doctor's appointments, a change in self-image, and declining health. In fact, research has shown that 25% of individuals diagnosed with cancer or diabetes also suffer from depression; over 40% of individuals who have had a heart attack are depressed; and 10-27% of those who have had a stroke also experience depression ("MedicineMD.com).
The Holman Group has developed a program "Mind Your Health Solutions", to address the behavioral health issues, which are common when someone has a serious or chronic illness. Mind Your Health Solutions is also here to help you, the treating clinician. You are often in the best position to notice a behavioral health problem first and to offer a referral or additional information that your patients may need to address the emotional aspect of his or her condition.
Mind Your Health Solutions offers the following services for individuals who are enrolled in this program:
Behavioral Health Care Advise services including

A thorough intake and bio-psycho-social screening
The creation of a personal care plan to resolve concurrent behavioral health issues
In and outbound telephone calls
Confidential email communication
Consultation with primary care physicians, nurse practitioners, care managers, and disease management staff, as needed

A fully interactive behavioral health disease management website, which includes

A self-scoring Health Risk Assessment
Self-assessment tests for depression and substance abuse
Self-scoring PHQ-9 Depression Assessment
Health and Wellness Library
Online and community resources
Monthly webinars on pertinent behavioral health topics
Health Improvement Programs, and
Online self-help videos on topics, such as Pre-Surgery Prep

Pharmacy Intervention Program

Designed to work with individuals who have been prescribed psychotropic medication by a non-psychiatric doctor. Our psychiatrists will also consult with their MDs to assure the best possible medication has been prescribed.
To determine if one of your Holman clients is eligible for Mind Your Health Solutions, please call or send a secure email to a Holman Health Advocate at 800-321-2843.
Your patients trust you and often expect you to be an expert in everything. Mind Your Health Solutions is here for you too! Whether or not your client is eligible for this program, as a Holman Provider you are welcome to access all of our Educational Resources, including our Health and Wellness Library, and our Community and Online Resources.
To consult with one of Holman's Behavioral Health Care Advisor, or to "warm transfer" an eligible client into our Behavioral Health Disease Management Program, simply send us a confidential message through our Doctor-to-Doctor confidential messaging system, or call us at 800-321-2843.
Services are available for you and your patients


Behavioral Health and Wellness Library


How to Refer a Patient to the Behavioral Health Disease Management Program


Doctor-to-Doctor Confidential Messaging